This exciting new Uganda journey is aimed at those fit and active travellers who want to experience the best of Southern Uganda "up close and personal". Climb the volcano Mt. Gahinga, explore ancient Batwa trails, cross through the Bwindi Impenetrable Forest on foot, and trek endangered Mountain Gorillas in Bwindi.
It's a fantastic way to immerse yourself in the fauna and flora of this East African gem, whilst experiencing one of the greatest wildlife encounters on the planet – coming face to face with a mountain gorilla.
Key
B&B: Bed and Breakfast
FB+: Full Board Plus – Dinner, Bed, Breakfast, Lunch and Activities
Price
*US$4,980.-June to mid Dec 2022 – single supplement US$470.-
*US$5,386.- April and May 2023 – Single supplement US$515.-
*US$5,669.-Jan, Feb, March, June to mid Dec 2023 – single supplement US$576.-
* Plus gorilla permit US$700 per trek, per person.
Price is per person, sharing occupancy, 2 people travelling together. Please deduct US$871pp should you be travelling in a group of 4 friends. Please note that hikes can be adjusted to your likes and requirements.
Included
Accommodation and meals as per package. Airport transfers, Local driver/guide throughout the journey. Activities as per itinerary. National Park fees for hikes, community donation, flight from Bwindi area to return to Entebbe on Day 7 with 33 pounds baggage (soft bags allowance).
Local, standard alcoholic beverages at Buhoma Lodge.
Excluded
International flight to Entebbe, visa, gorilla permit US$700, personal porters for your day pack during the hikes,
Day 1: Hotel No.5, Entebbe
Uganda
Once referred to as the "Pearl of the British Empire in East Africa", visiting Uganda, being one of the most beautiful countries on the African continent is like visiting the Garden of Eden. Uganda is a land of contrasts. In half a day you can drive from mist –shrouded volcanic mountains to hot, hazy savannah dappled with wildlife. Serene undulating lush hills of tea plantations give way to tangled jungle and rainforest with the musical accompaniment of chaotic, cacophonous birdlife. Uganda is alive with these contrasts: The tiniest sunbirds, iridescent in the morning light, the massive lumbering yet silent elephant, the chimpanzees crashing about the forest canopy, the majestic gorilla, chewing thoughtfully in the bamboo thicket. This is Africa the way it should be!
Ugandas biggest tourist draw are of course the mountain gorillas with almost half of the world's population located in one of East Africa's most famous national parks, the World Heritage listed Bwindi Impenetrable National Park. There is nothing in comparison to the thrill to observing these magnificent, peacefull apes in their native environment. But they aren't the country's only great apes. Humankind's closest relative, the chimpanzee, is found in several of areas of Uganda.
Parks with varied wild life covering different habitats, few tourists and friendly people make for a memorable experience well worth visiting. And as Uganda combines both Central African forests and East African savannahs , it is home to more than half of all Africa's species of birds!
Entebbe
Situated on a peninsula in Lake Victoria, the former seat of Uganda's government, Entebbe is just a short drive from the current capital and offers plenty to keep visitors amused. This charming town features tree-lined streets and serves as an excellent base from which to explore the surrounding area. Tourists can look forward to spending days on beautiful beaches along the banks of Lake Victoria, stroll through the fields and forests of the magnificent Botanical Gardens, or pay a visit to Ngamba Island Chimpanzee Sanctuary, a haven for country's orphaned chimps.
Day Itinerary
On arrival at Entebbe International Airport you will be met by a our representative and transferred to Hotel No.5
Set on the shores of Lake Victoria, Entebbe is a small town that is easy to explore on foot or local boda bodas (motorbike taxis).
Enjoy an afternoon motorised canoe boat cruise of Mabamba Swamp, a large wetland that is a favourable habitat for 260 recorded species of bird, making it a popular location for birders who may just spot the intriguing Shoebill – a rare sight indeed! The trip takes around 3-4 hours.
Activities
Mabamba Swamp Cruise Canoe Boat
Mabamba Swamp Cruise Canoe Boat
Mabamba Swamp Cruise is a boat cruise on a motorised canoe boat in a large wetland area on the shores of Lake Victoria, west of Entebbe. Mabamba Swamp Cruise is a favourable habitat for 260 recorded bird species. It's a great location for birding enthusiasts who may just spot the intriguing Shoebill – a rare sight indeed. This is a must do tour for avid bird watchers. The motorised canoe seats max 4 people and takes 45 mins from Entebbe pier to the swamp. On arrival, transfer to a small dugout canoe in which to navigate your way through the swamps. The tour takes approximately 3-4 hours in total and is best enjoyed in the early morning when the Shoebills stalk their prey, or late afternoons when the day cools down.
Nestled in the leafy suburbs of Entebbe, is the new and stylish boutique hotel, Hotel No.5. From the moment you arrive, you are warmly welcomed and cared for. With luxurious rooms opening onto the garden and swimming pool, this is a great option for guests looking for an intimate stay in a tranquil setting.
Make yourself at home – unwind beside the swimming pool, pamper yourself with a spa treatment, or work up a sweat in the hotel gym. For one of the most flavoursome dining experiences in Entebbe, carefully planned menus are paired to an international wine list, and served with pride.
Attention to detail and an attentive guest experience are synonymous with Hotel No. 5, making it the perfect choice for a restful stay in this busy town.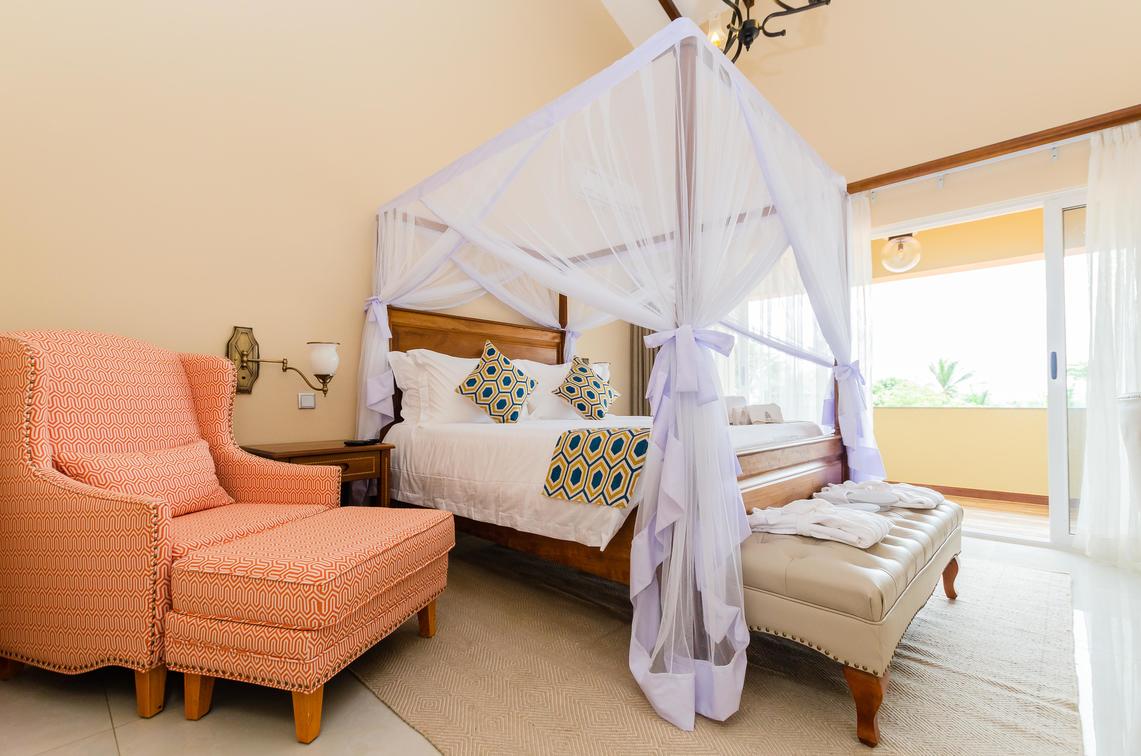 Luxury Double Room
The luxury double rooms are located on the second floor. Each room has a small outside sitting area facing the gardens and swimming pool, and an en-suite bathroom with shower. All rooms offer Wi-Fi internet access, a guest safe, flat screen television, direct dial telephone, filter coffee making facility and mosquito nets over the beds.
Basis
Bed and Breakfast
Day 2: Lake Chahafi Resort, Uganda
Day Itinerary
Pack a picnic lunch for your full day drive (approximately 9 hours) to see Ugandan villages and scenery. Children will be waving at you along the way and depending on the season, see the villagers harvest or plant their crops. A very interesting drive but there is the option to fly rather than taking the drive through the country side (flight is US$620pp including additional transportation that is required).
Overnight: Lake Chahafi Resort
Lake Chahafi Resort sits just 20 minutes away from the town of Kisoro, in an area of completely unspoilt natural beauty. On three sides, it is surrounded by the rolling hills of the Virungas, on the fourth, the highest of the Virunga peaks, Mt Muhavura, rises majestically up on its own. A perfect peaceful retreat from the busy town, come and spend a day relaxing at the lake, or a cosy evening next to the fireplace in the bar before a night in one of the 8 permanent canvas tent en-suite cabins with awesome views on the lake, volcano, garden, bar and restaurant.
Basis
Full Board Plus – Dinner, Bed, Breakfast, Lunch and Activities
Day 3: Lake Chahafi Resort, Uganda
Day Itinerary
Mount Gahinga hike
Gahinga is a dormant volcano in the Virunga Mountain Range on the border between Rwanda and Uganda. Gahinga lies between Muhabura and Sabyinyo and it is the smallest of all. Gahinga Volcano a swampy area on its peak and the swampy area is about 180 meters wide.
Mount Gahinga, whose elevation is 3,474 meters, is part of a chain of 5 volcanic mountains of the Volcano National Park. The volcano chain spans across Uganda, Rwanda and the RDC. The vegetation across the mountain is composed of the bamboo making the main vegetation. Like Muhabura and Sabyinyo the bamboo forests on Mount Gahinga are a habitat of the endangered mountain Gorillas. On top of the famous mountain gorillas, Gahinga is almost home to several other species of animals and birds that form part of the Mount Gahinga ecosystem. The equally endangered golden monkeys are an example of that ecosystem.
This climb takes around six hours in total including ascent and descent. Mt Gahinga is topped by a swamp-filled crater and giant lobelia. Lucky climbers may spot golden monkeys on their climb through the bamboo forest.
Activities
Basis
Full Board Plus – Dinner, Bed, Breakfast, Lunch and Activities
Day 4: Lake Chahafi Resort, Uganda
Day Itinerary
The dense forest at the foot of the Virunga Volcanoes was once home to the Batwa people: hunter-gatherers and fierce warriors who depended on the forest for shelter, food and medicine thanks to ancient knowledge passed down through many generations. Step back in time to see how the Batwa lived and hunted for millennia in Mgahinga. Share a traditional meal, listen to ancient legends and traditional songs, and join in on a mock hunting party. You can even test your skill with a Batwa bow and arrow.
The funds from this tour are part of a give back program that supports the indigenous people's cultural heritage by helping them purchase new land, provide education and books.
Activities
Basis
Full Board Plus – Dinner, Bed, Breakfast, Lunch and Activities
Day 5: Buhoma Lodge, Bwindi Impenetrable Forest
Bwindi Impenetrable Forest
The Bwindi Impenetrable Forest is where you have the best chance of spotting a mountain gorilla family going about their business. Once you have your permit you are led across the rugged terrain and though the awe inspiring jungle to where the gorillas were seen the day previously and then you track them down. Aside from the amazing gorilla interactions there are numerous forest walks and 346 species of birds to track down, many of which are amazingly coloured.
Bwindi Impenetrable Forest is one of Africa's most ancient habitat. With an altitude span of 3,800' to 8,550' this antiquity has produced an incredible diversity of flora and fauna, even by normal rainforest standards. And we do mean rainforest; up to 8.2 feet of rain falls here annually.
Day Itinerary
The Bwindi Impenetrable National Park's mist-covered hillsides are blanketed by one of Uganda's oldest and most biologically diverse rainforest, which dates back over 25,000 years and contains almost 400 species of plants. This "impenetrable forest" also protects an estimated 400 mountain gorillas – including several habituated families. This biologically diverse region also provides shelter to a further 120 species of mammal, including several primate species such as baboons and chimpanzees, as well as elephants and antelopes. There are around 350 species of birds hosted in this forest, including 23 Albertine Rift endemics.
The Nkuringo – Buhoma walking trail is a wonderfully immersive way of travelling from the Southern to Northern sectors of Bwindi Impenetrable Forest. While your driver heads off on a long windy road with your luggage to your next stop, Buhoma Lodge, explore this primal forest on a 3-4 hour trail cutting right across the park.
Activities
Nestled at the gateway to Bwindi Impenetrable Forest, Buhoma Lodge is one of only two lodges set within the national park, and is the perfect lodge of choice when embarking on your bucket-list Gorilla trekking adventure.
Renowned for its warm welcome and attentive service, guests love the homely ambience of this Africa inspired lodge. Constructed using sustainable materials, the elevated central lounge, bar and dining area (serving delicious multi-course meals) offers a cosy spot for guests to unwind, and offers amazing uninterrupted views over the forest. The crackling fireplace adds a mystical atmosphere to cooler evenings.
Tranquil and cosy, the ten spacious eco friendly wooden chalets offer a private escape. Fall asleep to the sounds of the forest and awaken to chattering birds and monkeys as day breaks. Enjoy morning tea/coffee on your private verandah with sweeping views over the primal forest– what better way to start the day.
With Buhoma set just steps away from the trek start point, gorillas have been spotted popping in for an occasional visit, while our resident L'Hoest's monkey troup visit the gardens in front of the lodge almost daily, much to the delight of our guests.
Chalet
Our ten comfortable chalets have been designed with the forest in mind, by using eco-friendly materials and applying eco-friendly building standards. The chalets may have been built with consideration for the forest, but comfort hasn't been compromised on.
Inside the spacious chalets you will find large, comfortable beds and everything you need to make yourself at home. The well-appointed and roomy en-suite bathroom with flush toilet contains a rain shower with a copious supply of hot water and equipped with locally produced natural ranges of complementary bathroom amenities. Some chalets also offer a bath-tub for relaxation and enjoyment after the day's activities.
Basis
Full board plus activities
Day 6: Buhoma Lodge, Bwindi Impenetrable Forest
Day Itinerary
Few words can describe the thrill of today's lifetime experience! Coming face to face with mountain gorillas is a rare wildlife encounter that is exhilarating, humbling and enthralling. Experienced guides and trackers will accompany your party on an early morning trek into the dense rain forest on the steep mountain slopes. Please note that gorilla tracking is strenuous with treks ranging from 45 minutes and up to eight hours, at altitude and in sometimes hot African conditions.
The thrill of the hour you spend quietly observing these gentle giants once you find them is so worth the trek! Although mountain gorillas are wild animals and sightings cannot be guaranteed, viewing success rates are over 95%.
Head back to Buhoma Lodge for a complimentary massage after your trek, or explore the surrounding Bwindi community (US$30pp)
Activities
Optional
Basis
Full board plus activities
Day 7: End of Itinerary
Day Itinerary
After breakfast transfer to the local airstrip for your flight to Entebbe.
End of service.
Basis
Bed and Breakfast
Flight Information
| | | | | | | | | |
| --- | --- | --- | --- | --- | --- | --- | --- | --- |
| Date | Flight | Airline | Departure Airport | Time | Arrival Airport | Time | Class | Ref |
| | Scheduled | | Kihihi Airstrip | | Entebbe International Airport [EBB] | | | |