This exquisite journey begins with a safari through Northern Tanzania with combination of driving and flying to get the best out of it. Search for the famous wildebeest migration and explore Ngorongoro Crater for "The Big-5". Continue to Uganda to track for gorillas, one of the best experiences of a lifetime.
Highlites:
Explore Northern Tanzania National Parks: the Serengeti, Lake Manyara and Ngorongoro Crater
Private vehicle with your guide/driver to stop and go as you please at Ngorongoro Crater.
See the countryside and villages of Northern Tanzania and Bwindi Region of Uganda
Small safari camps for better experiences
Tanzania Walking and Night Safari option
Track for the endangered mountain gorillas in Uganda
Direct flight from Uganda into the Serengeti!
Key:
BB: Bed and Breakfast
HB: Half Board Plus – Dinner, Bed, Breakfast
FB+: Full Board Plus – Dinner, Bed, Breakfast, Lunch and Activities
Price
US$8,131.- plus gorilla permit US$700.- from mid June to end of October 2022
Price is discounted with 1 free night at Nasikia Mobile Camp!
Price per person, sharing occupancy.
Tour starts at Kilimanjaro airport, Tanzania and ends at Entebbe airport, Uganda. Tour may be booked individually, 2 persons minimum, no fixed departure dates.
Included
Accommodation and full board as per package, private customized safari vehicle with naturalist guide/driver during your stay at Ngorongoro with unlimited miles, shared safari vehicle in the Northern Serengeti, all National Park Entrance fees, airport meet and greets, emergency evacuation insurance from safari camps to nearest hospital (no treatment included);
Buhoma Lodge: house wines and local beer, guided community walk,
Excluded
International flight to Kilimanjaro airport and from Entebbe to home, optional tours, optional hot air balloon flight, visas,
Day 1: Rivertrees Country Inn, Arusha
Tanzania
The name Tanzania conjures up images of wildebeest stampeding across vast savannah, rain forests teeming with monkeys and birdlife, and great plains brimming with legions of game. All of these natural wonders and more are on offer in this exceptionally diverse African nation. Visitors typically visit Tanzania to partake in at least one of the four well known Tanzanian tourist experiences: a relaxing seaside vacation on the picturesque island paradise of Zanzibar, an underwater tour of some of the world's most renowned dive sites around the gorgeous Spice Islands, a safari adventure in some of Africa's most impressive game reserves, or a hiking excursion around Mount Kilimanjaro National Park. Whichever of these incredible holidays you choose, you will undoubtedly be welcomed by some fabulously friendly and peaceful inhabitants who, despite being divided into 120 different ethnic groups and cultures, live in harmony with one another and provide some of the most wonderfully exotic local cuisine you could imagine. With all of this diversity on offer, the most difficult part of your Tanzanian holiday experience is likely to be deciding where to go!
Arusha
Arusha is the safari capital of Tanzania – nestled below Mt. Meru and close to Mount Kilimanjaro. From Arusha there are options to head to Lake Manyara, Tarangire and Ngorongoro National Parks and from there it's a short trip to the Serengeti. Arusha was built by the Germans as a centre of colonial administration because of the temperate climate.
Day Itinerary
Arrive at Kilimanjaro airport and meet our representative for the transfer to your hotel.
Overnight: Rivertrees Country Inn
Once an old coffee estate, Rivertrees is now a charming country inn nestled in abundant foliage with the Usa River flowing by. Set in the foothills of Mt Meru, conveniently close to Kilimanjaro International Airport and a short drive to Arusha, its location proffers a wealth of natural wonders to explore.
Comprising the original Farm House, an elegant River House, luxurious River Cottages and several beautifully appointed Garden Rooms, it also serves delicious garden-fresh cuisine in its stunningly set restaurant. The swimming pool and spa are tailored for relaxation, and friendly personalised service ensures a memorable stay, whether for a one-night stopover or much longer.
Basis
Half Board – Dinner, Bed and Breakfast
Day 2: Ang'ata Ngorongoro Camp, Ngorongoro Crater
Ngorongoro Crater
The Ngorongoro Crater, once a gigantic volcano, is the largest intact caldera in the world. Some maintain that before it erupted, it would have been higher than Mt Kilimanjaro, the highest peak in Africa. Today, long since having collapsed and eroded, it is an extensive highland area with the famous 600 meter deep Ngorongoro Crater as its focal point. Nearly three million years old, the ancient caldera shelters one of the most beautiful wildlife havens on earth. Fresh springs and a large soda lake quench the thirst of all the inhabitants.The Ngorongoro Crater is game viewing gone crazy and it is not surprising that it is one of Tanzania's major tourist drawcards Black rhino are protected within its rim, giant tusked elephants wander the forests, black-maned lions stalk the grasslands, and flamingos crowd the soda lakes. It is also one of the view places where hyenas can be seen roaming during the daylight. Outside of the crater Masaai herdsmen can be seen tending to their flocks of goats and herds of cattle.
Lake Manyara National Park
With the Lake on its east and the Manyara Escarpment to its west the Lake Manyara National Park offers breathtaking views and a large variety of habitats. Acacia woodlands, water forests, baobab strewn cliffs, algae-streaked hot springs, swamps and the lake itself. Manyara has the largest concentration of baboons anywhere in the world. It lends itself for a picnic stop on the way to Ngorongoro Crater.
Day Itinerary
Meet our representative after breakfast for your drive through the countryside and villages. Enjoy a safari and picnic at Lake Manyara National Park. Then cross the Great Rift Valley and enter Ngorongoro Conservation area where you will spend the night on the crater rim for early access into the crater next morning.
Overnight: Ang'ata Ngorongoro Camp
Ang'ata Ngorongoro Camp with 7 medium size tents and 1 double Family Tent and is ideally situated on the rim of the Ngorongoro Crater, just inside the Lemala Ranger Post. It allows early descent in the crater before the crowds arrive and late game drives when most have already left the Crater floor.
Each guest tent has an en suite bathroom with shower and vanity desk.
The camp's lounge is the place to meet other travellers and share safari stories while enjoying a complimentary cup of Tanzanian coffee or tea.
Breakfasts, lunches and dinners are served in the dining tent, freshly prepared on a daily basis.
Bush TV, the local name for campfires, is lit when the weather permits.
Crater Floor Lunches and Walking Safaris to be booked upon reservation
Double King Size Tent
A comfortable Tent with double roof and UV shade, with a King size Bed equipped with mosquito nets, Side tables, a lockable chest for your valuables, luggage rack.
En suite Bathroom with shower, Vanity desk and flush toilet, bathrobes, towels and amenities
Basis
Full Board Plus – Dinner, Bed, Breakfast, Lunch and Activities
Day 3: Ang'ata Ngorongoro Camp, Ngorongoro Crater
Day Itinerary
Get an early start and descend into Ngorongoro Crater, a UNESCO World Heritage Site and the location of the Big-5. Return to the crater rim for overnight.
Your lodge is located on the rim of the crater which allows you to be amongst the very first people entering the crater in the morning. Most tourists are in lodges 1.5 hour away. Being first in the crater means less people in the morning and better lighting for picture taking.
Activities
Basis
Full Board Plus – Dinner, Bed, Breakfast, Lunch and Activities
Day 4: Nasikia Mobile Migration Camp (Jun – Oct), Northern Serengeti
Northern Serengeti
The Serengeti together with Kenya's Masai Mara Game Park form Africa's most famous wildlife park. The image of acacia trees on an endless grass plain epitomises Africa for many, and then add a Masai warrior and some cattle to the picture and the conversation need go no further. Unlike the southern plains of the Serengeti that dry out, forcing all but the hardiest of species to leave, the Northern Serengeti remains lush and green throughout the year. The annual wildebeest migration through the Serengeti and the Masai Mara is the largest mass movement of land mammals on the planet – with more than a million animals following the rains. From July through to October the Migration is in the Northern Serengeti and this is where many of the most famous scenes of the Migration occur with almost daily crossings of the Mara River. But that is not where the game viewing ends; large prides of lions, elephants and giraffes in grasslands, gazelles and eland to mention but a few.
NOTE: Animals are wild and sightings can not be guaranteed
Day Itinerary
Head for the endless plains of the Serengeti by bush plane. Take in a birds-eye view of the Serengeti, an experience you will never forget. Search to spot elephants, giraffe or herds of wildebeest from the air.
Overnight: Nasikia Mobile Migration Camp (Jun – Oct) View iBrochure
Nasikia Mobile Migration Camp is moved and constructed each year to follow the migration herds and to maximise the experience of staying in the heart of wildlife action. From the southern plains of Ndutu in the Ngorongoro Conservation area to the rolling landscapes of northern Serengeti. The number of tents varies and never exceeds 12, so a maximum of 24 guests at any given time.
This is the ultimate and original tented camp experience with ensuite bathrooms, bucket showers, comfortable bedding, beautiful linens and a dining and lounge tent for relaxing and escaping the heat of the day or inclement weather. Food here is a highlight, home cooked style delights always too much to consume! Service is friendly and personal as its owner run with a team of outstanding local staff to ensure your every need is catered for.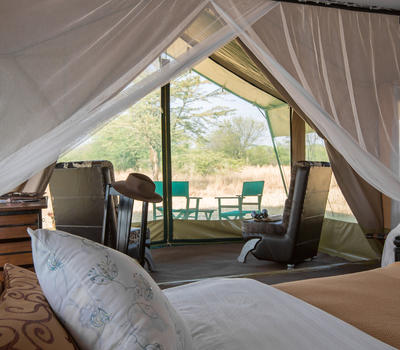 Nasikia Mobile Migration Camp
We offer double (a honeymoon option), twin, single, triple and family (quad) tents and each bed is fully netted for custom made protection from mosquitoes and insects. The beds are fitted with imported cotton sheets, double pillows, duvets and bed runners for your comfort. The tents have netted windows down each side of the tent which you can fully open only the canvas remaining at all times with the mosquito netting stitched strongly into the actual tent. Then comes the bathroom area, which can be accessed directly from the bedroom with a separate doorway. Once inside, there is a bathroom stand with a ceramic wash basin with running water via stylish taps, a mirror, a supply of natural based bathroom products, and linen to suit the number of people expected to occupy the tent.
This area also displays a woven grass mat and cloths rack. Within this area, there are additional toilet and shower areas for privacy. Inside the toilet area is a ceramic flushing toilet, encased in a wooden frame for stability. Inside the shower area, is stand for washing behind a shower curtain and under a 20 litre PVC bucket erected on a pulley system as required. From the entrance to the bedroom and onto the bathroom, each tent is fitted with an extensive solar lighting system for your convenience.
Basis
Fully Inclusive – Bed, All Meals, Fees and Activities
Day 5: Nasikia Mobile Migration Camp (Jun – Oct), Northern Serengeti
Day Itinerary
Explore the Serengeti in search of the famous Wildebeest Migration.
Activities
Wildebeest Migration
Find and mingle with thundering herds of the legendary wildebeest migration where 1.5 million wildebeest and zebras followed by hungry predators keep moving in search of nutritious grass. Experience the power of the migration up close in the vast savannas of the Serengeti.
Optional: Nasikia Mobile Migration Camp Additional Activities – extra charge
Balloon safaris are a romantic and evocative way of experiencing the wilderness of East Africa, as you silently fly over the plains teeming with herds of wildlife in the early morning. Typically, a balloon safari begins around 6am and lasts for around 1-2 hours. Balloon safaris (additional cost) in the Serengeti take off from designated sites in the nearby Ndutu or Kogatende areas depending on camp location. The safari is followed by a champagne breakfast in the bush, a fitting end to a memorable flight in the wild.
Explore the intriguing wilderness on foot with an armed walking guide; follow the tracks, smell the herds on the breeze and hear the crunch of fauna underfoot.Ideally these are at dawn and dusk, before and after the heat and stillness which prevails around the middle of the day when the animals (and most people) take a rest. Our bush guides have a wealth of insightful experience and they will fascinate you with bush-wise facts, wildlife know-how, local customs and incredible stories of life in the wilderness.
Enjoy a camp meal outside under the infinite African night skies – a beautiful way to experience the bush.
Basis
Fully Inclusive – Bed, All Meals, Fees and Activities
Day 6: Nasikia Mobile Migration Camp (Jun – Oct), Northern Serengeti
Day Itinerary
Another full day in the famous Serengeti!
Basis
Fully Inclusive – Bed, All Meals, Fees and Activities
Day 7: Nasikia Mobile Migration Camp (Jun – Oct), Northern Serengeti
Safaris await to search the endless plains of the Serengeti. You might see big herds of antelopes and zebras, cheetahs, lions, hyenas, elephants, hippo, crocs and lots more….
Basis
Fully Inclusive – Bed, All Meals, Fees and Activities
Day 8: The Boma Hotel Entebbe, Entebbe
Uganda
Once referred to as the "Pearl of the British Empire in East Africa", visiting Uganda, being one of the most beautiful countries on the African continent is like visiting the Garden of Eden. Uganda is a land of contrasts. In half a day you can drive from mist –shrouded volcanic mountains to hot, hazy savannah dappled with wildlife. Serene undulating lush hills of tea plantations give way to tangled jungle and rainforest with the musical accompaniment of chaotic, cacophonous birdlife. Uganda is alive with these contrasts: The tiniest sunbirds, iridescent in the morning light, the massive lumbering yet silent elephant, the chimpanzees crashing about the forest canopy, the majestic gorilla, chewing thoughtfully in the bamboo thicket. This is Africa the way it should be!
Ugandas biggest tourist draw are of course the mountain gorillas with almost half of the world's population located in one of East Africa's most famous national parks, the World Heritage listed Bwindi Impenetrable National Park. There is nothing in comparison to the thrill to observing these magnificent, peacefull apes in their native environment. But they aren't the country's only great apes. Humankind's closest relative, the chimpanzee, is found in several of areas of Uganda.
Parks with varied wild life covering different habitats, few tourists and friendly people make for a memorable experience well worth visiting. And as Uganda combines both Central African forests and East African savannahs , it is home to more than half of all Africa's species of birds!
Entebbe
Situated on a peninsula in Lake Victoria, the former seat of Uganda's government, Entebbe is just a short drive from the current capital and offers plenty to keep visitors amused. This charming town features tree-lined streets and serves as an excellent base from which to explore the surrounding area. Tourists can look forward to spending days on beautiful beaches along the banks of Lake Victoria, stroll through the fields and forests of the magnificent Botanical Gardens, or pay a visit to Ngamba Island Chimpanzee Sanctuary, a haven for country's orphaned chimps.
Day Itinerary
Take a morning flight directly from the Serengeti to Entebbe, Uganda.
Our representative will be awaiting you for your transfer to your hotel. Depending on your arrival you may take optional half day tour to the Mbamba Swamp to search for the elusive shoebill stork or rent a bike to visit the nearby Botanical Gardens.
Optional
Entebbe Botanical Gardens
Market Visit
Mbamba Swap Tour
Entebbe Botanical Gardens
In the heart of Entebbe lies the lush Botanical Gardens which were established in 1898 and are home to over 300 varieties of exotic plant species as well as an abundance of birdlife, black and white colobus and vervet monkeys. The rainforest zone in the gardens was used as a backdrop during the filming of the original "Tarzan" in 1940 and part of the gardens borders Lake Victoria.
Overnight: The Boma Hotel Entebbe
The Boma Hotel is Entebbe's original and most exclusive hotel, set in tropical gardens in a leafy suburb, a few minutes drive from Entebbe International Airport. Our rooms combine the modern comforts one expects today with the charm and character of the original 1940's home. The Boma is an ideal stopover for all travellers and airline passengers, and we will arrange all your airport transfers. Our staff and management team ensure guests receive a personable service and enjoy hospitality standards which are in keeping with the tradition of this charming lakeshore town.
The residents-only bar and dining area overlooks the pool area and provides a delightful and relaxed country house experience. The main house includes a private dining veranda and living room for overnight guests. Other hotel facilities include the swimming pool, Gym, Free WiFi, 24-hour security and car parking. We offer a laundry service for overnight guests and there is a small craft shop on site. We can organise local taxi hire and day trips to the nearby attractions.
Double Room
All our double rooms have a King Size bed with mosquito nets, air conditioning, fans, private bathrooms, a TV and safe for valuables.
Basis
Bed and Breakfast
Day 9: Buhoma Lodge, Bwindi Impenetrable Forest
Bwindi Impenetrable Forest
The Bwindi Impenetrable Forest is where you have the best chance of spotting a mountain gorilla family going about their business. Once you have your permit you are led across the rugged terrain and though the awe inspiring jungle to where the gorillas were seen the day previously and then you track them down. Aside from the amazing gorilla interactions there are numerous forest walks and 346 species of birds to track down, many of which are amazingly coloured.
Bwindi Impenetrable Forest is one of Africa's most ancient habitat. With an altitude span of 3,800' to 8,550' this antiquity has produced an incredible diversity of flora and fauna, even by normal rainforest standards. And we do mean rainforest; up to 8.2 feet of rain falls here annually.
Day Itinerary
Take the morning flight to Bwindi Impenetrabel Forest National Park. Afternoon options include a guided Forest Walk (US$70 includes National Park fee) or visit the Ride4Woman project.
Optional
Ride 4 a Woman
Empower the Women of Bwindi by visiting their meeting place where they weave baskets and sew items out of lovely Ugandan fabrics. Each item will have the artists name on it and you can probably meet her in person.
Ride 4 a Woman is a charitable organization set up to support women struggling with poverty, HIV and domestic violence. When their work in the fields and at home allows, they come here to sew and weave for some additional income. A most worthwhile project to support.
Nestled at the gateway to Bwindi Impenetrable Forest, Buhoma Lodge is one of only two lodges set within the national park, and is the perfect lodge of choice when embarking on your bucket-list Gorilla trekking adventure.
Renowned for its warm welcome and attentive service, guests love the homely ambience of this Africa inspired lodge. Constructed using sustainable materials, the elevated central lounge, bar and dining area (serving delicious multi-course meals) offers a cosy spot for guests to unwind, and offers amazing uninterrupted views over the forest. The crackling fireplace adds a mystical atmosphere to cooler evenings.
Tranquil and cosy, the ten spacious eco friendly wooden chalets offer a private escape. Fall asleep to the sounds of the forest and awaken to chattering birds and monkeys as day breaks. Enjoy morning tea/coffee on your private verandah with sweeping views over the primal forest– what better way to start the day.
With Buhoma set just steps away from the trek start point, gorillas have been spotted popping in for an occasional visit, while our resident L'Hoest's monkey troup visit the gardens in front of the lodge almost daily, much to the delight of our guests.
Chalet
Our ten comfortable chalets have been designed with the forest in mind, by using eco-friendly materials and applying eco-friendly building standards. The chalets may have been built with consideration for the forest, but comfort hasn't been compromised on.
Inside the spacious chalets you will find large, comfortable beds and everything you need to make yourself at home. The well-appointed and roomy en-suite bathroom with flush toilet contains a rain shower with a copious supply of hot water and equipped with locally produced natural ranges of complementary bathroom amenities. Some chalets also offer a bath-tub for relaxation and enjoyment after the day's activities.
Basis
Bed and Breakfast
Day 10: Buhoma Lodge, Bwindi Impenetrable Forest
Day Itinerary
Get up early at 6:00 and report to the Park headquarters with your packed lunch for briefing by the senior park ranger guide. You will then set out to track the gentle giants through thick vegetation as you hike up and down slippery slopes. Be vigilant to listen to their vocal communications and follow them until you finally come eye-eye with them. An hour with them is possible as you observe and learn their habits while taking photos. It is an extraordinary feeling, sitting in the dense rainforest knowing you are with a few of the last remaining and critically endangered mountain gorillas.
Basis
Bed and Breakfast
Day 11: Buhoma Lodge, Bwindi Impenetrable Forest
Day Itinerary
Today you may choose to track the gorillas a second time (US$770.-), visit the local community (guided at US$30) or meet the Batwa Pygmies (US$85).
Basis
Bed and Breakfast
Day 12: End of Itinerary
Day Itinerary
Head for the airstrip for your flight to Entebbe airport.
Basis
Bed and Breakfast
Flight Information
| | | | | | | | | |
| --- | --- | --- | --- | --- | --- | --- | --- | --- |
| Date | Flight | Airline | Departure Airport | Time | Arrival Airport | Time | Class | Ref |
| | Scheduled | | Airstrip serving Ngorongoro Crater | | Nasikia Mobile Migration Camp (Jun – Oct) | | | |
| | Scheduled | | Nasikia Mobile Migration Camp (Jun – Oct) | | Entebbe International Airport [EBB] | | | |
| | Scheduled | | Entebbe International Airport | | Airstrip serving Buhoma Lodge | | | |
| | Scheduled | | Airstrip serving Buhoma Lodge | | Entebbe International Airport [EBB] | | | |