*Safari in South Africa's most coveted private game reserve, the Sabi Sands
*Gaze over the African bush from your elevated Nthambo Treehouse Chalet
*Search for the famous Big-5 as well as giraffe, zebras, antilopes, crocodiles and much more…
*Walking safaris to explore the smaller animals most often missed in the vehicle
*Private transfer between camps to see the South African villages and countryside
*Add Cape Town or Johannesburg overnights if desired
| | | | | |
| --- | --- | --- | --- | --- |
| Accommodation | Destination | Basis | Room Type | Duration |
| nThambo Tree Camp | Klaserie Private Game Reserve | FB+ | 1x Treehouse Chalet | 4 Nights |
| Umkumbe Safari Lodge | Sabi Sand Private Game Reserve | FB+ | 1x Superior Suite: Lion Suite | 4 Nights |
Key
B&B: Bed and Breakfast
FB+: Full Board Plus – Dinner, Bed, Breakfast, Lunch and Activities
Price
Price 2022 and 2023: US$3,906.- per person, double occupancy, Single supplement US$426.-
Note: Safaris are ideal for single travellers. Travellers will be together with other safari lovers on open air vehicle during safaris. Meals, unless preferred at private table, are generally taken family style with guides present making for lovely and informative conversations. Meals are taken under the African sky or in open sided, airy venues.  After dinner campfire chats are the norm. You will always been taken care of from welcome in airport arrival hall to departure check in.
Journey starts and ends in Johannesburg. You are required to arrive early in the morning to be able to connect same day to safari location.
Included
Accommodation and meals as per package, all transfers and domestic flights, 2 daily safari activities; National Park fees,  Johannesburg airport welcome and assistance with onward flight;
Excluded
International return flight to Johannesburg; travel and evacuation insurance;
Best time to travel:
Greater Kruger National Park is considered a year-round safari destination. There are two seasons tough and it depends on what you like to experience:
Winter season from May – October: Dry season with vegetation being sparse making it easier to spot wildlife. Animals can be found more predictable at water holes.
Summer from November to April: Kruger is transformed into beautiful green landscape. Many baby animals are born at this time. Excellent for bird watching.
Day 1: nThambo Tree Camp, Klaserie Private Game Reserve
South Africa
This vast country is undoubtedly one of the most culturally and geographically diverse places on earth. Fondly known by locals as the 'Rainbow Nation', South Africa has 11 official languages and its multicultural inhabitants are influenced by a fascinating mix of cultures. Discover the gourmet restaurants, impressive art scene, vibrant nightlife and beautiful beaches of Cape Town; enjoy a local braai (barbecue) in the Soweto township; browse the bustling Indian markets in Durban; or sample some of the world's finest wines at the myriad wine estates dotting the Cape Winelands. Some historical attractions to explore include the Zululand battlefields of KwaZulu-Natal, the Apartheid Museum in Johannesburg and Robben Island, just off the coast of Cape Town. Above all else, its remarkably untamed wilderness with its astonishing range of wildlife roaming freely across massive unfenced game reserves such as the world-famous Kruger National Park. With all of this variety on offer, it is little wonder that South Africa has fast become Africa's most popular tourist destination.
Klaserie Private Game Reserve
Situated on the northeastern edge of South Africa, Klaserie Private Game Reserve forms part of the Greater Kruger National Park. It is one of the largest privately owned reserves in the country comprising 60 000 hectares of seemingly endless plains of unspoilt African bushveld. This scenic wilderness sanctuary is home to the renowned 'Big Five' as well as an impressive array of wildlife including: African elephant, black and white rhino, buffalo, African wild dog, lion, leopard, and an abundance of buck. Visitors can look forward to enjoying a variety of outdoor activities such as guided walking safaris, game drives, and thrilling wildlife tracking excursions. The reserve is known for its incredible birdlife boasting over 500 species including the endangered Southern ground hornbill and the white-backed vulture.
Day Itinerary
Arrive at Johannesburg airport in the morning and continue to The Klaserie, part of the famous Greater Kruger National Park, by 1 hour flight. Enjoy your first safari this afternoon.
Note: Possible to spend one night in Johannesburg for rest and relaxation if you prefer. Or maybe visit Cape Town!
Activities
Game Drives in the Klaserie
Game Drives in the Klaserie
One of the main features of a safari is a 4×4 game drive. On game drives you are able to get a lot closer to big game than on a self-drive safari, as you are guided by experienced rangers and in appropriate vehicles. The animals are generally habituated to the vehicle. This enables to you to get within five to 10 metres of the large animals – and safely!
All game drives are conducted in open 4 x 4 Toyota Land Cruisers; which are perfect for photographic and video opportunities. The afternoon game drives generally leave at 16:00 and include late afternoon game spotting, a sundowner stop and a game drive that continues into the night.
Overnight: nThambo Tree Camp View iBrochure
nThambo Tree Camp is located in the heart of the Klaserie Private Reserve, which shares unfenced borders with the Kruger Park. There are 5 solar-powered wooden chalets on stilts with endless views across the wilderness.
Chalets are constructed from canvas walls and thatched roofs, and each one has a private wooden balcony. Guests have access to a small splash pool at the main lodge area, which is ideal for the hot summer months.
Big Five walking safaris can be arranged for after breakfast, and there is flexibility in terms of guests' desires. nThambo Tree Camp is ideal for guests seeking an intimate safari in a relaxed environment. Food is simply traditional home cooking and often guests are treated to a braai (barbeque) in the boma.
The camp is unfenced, which means wildlife roams freely throughout. Elephants often drink from the swimming pool, which is a highlight for many guests!
Treehouse Chalet
There are 5 identical treehouse-style chalets at nThambo Tree Camp, each elevated on wooden stilts at eye level with the trees and overlooking the open area in front of the camp. Thatched, timber structures with private balconies, en suite bathrooms, and comfortable double or twin beds. There are luggage racks, mosquito nets, clothing shelves, safes, and desks in each room. There are no fences around the camp, so care should be taken when walking from your chalet to the main lodge area and back.
Day 2, 3 and 4: nThambo Tree Camp, Klaserie Private Game Reserve
Day Itinerary
For the next couple days, take morning and afternoon game drives and relax by the pool over noon or just gaze over the African savannah from your elevated tree house.
Activities
Game Drives in the Klaserie
Bush Breakfasts and Dinners
Bush Walks
Bush Breakfasts and Dinners
The team at nThambo are flexible when it comes to guests's needs and will go out of their way to ensure a special occassion is celebrated. Bush dinners and breakfasts are often arranged over the festive season, upon request or if there is a group of friends travelling together.
If this is something you would like us to arrange, please request this beforehand.
Bush Walks
Our standard morning procedure is to take guests out on a game drive but if guests are interested we can arrange a bush walk after breakfast.
All Walking Safaris are led by qualified rangers who have had intensive specialised training in approaching dangerous game and we demonstrate how to behave when encountering animals. In addition to allowing you to view the larger mammals on foot, rangers will impart valuable knowledge about the surrounding vegetation.
A bush walk will allow you to track animals on foot and learn what types of tracks various species leave when traversing the bush. Bush walks are a great way to immerse yourself in the sights and sounds of Africa.
Basis
Full Board Plus – Dinner, Bed, Breakfast, Lunch and Activities
Day 5: Umkumbe Safari Lodge, Sabi Sand Private Game Reserve
Sabi Sand Private Game Reserve
Adjacent to the Kruger National Park, the Sabi Sand Private Game Reserve is a private premier viewing destination. It was the first-ever private nature reserve established in South Africa. The landscape features 65 000 hectares of savannah-covered land interspersed with watering holes, dry river beds, Lowveld woodlands, and the perennial Sabi and Sand rivers. This spectacular reserve offers exceptional game viewing opportunities with frequent sightings of the renowned Big Five as well as cheetah, zebra, giraffe, and a variety of antelope. Visitors can enjoy excellent wildlife viewing, dining under the stars, guided bush walks and enjoying a stay in some of South Africa's most luxurious safari lodges.
Day Itinerary
After your morning walk or game drive have a hearty brunch and have a private vehicle transfer to Sabi Sands, one of Africa's most coveted safari destinations. Take in South Africa's country side and villages on the way to Sabi Sands. A game drive awaits this evening at Umkumbe.
Overnight: Umkumbe Safari Lodge View iBrochure
Umkumbe Safari Lodge is one of the most affordable lodges located in the heart of the Sabi Sand Private Game Reserve in the Greater Kruger. The reserve is about 65000 hectares and shares unfenced borders with the Kruger National Park.
Accommodation is growing and will soon sleep 20 people at capacity. Rooms have two single beds, ensuite bathrooms and private patios, while each is fitted with an air-conditioner. Some of the chalets are connected via an inter-leading door, making them ideal for small groups and families. During the heat of summer guests can relax around the swimming pool, which overlooks the Sand River and the open wilderness.
Dining in a traditional boma around a roaring fire is one of the most enjoyable African bush experiences. After dinner, rangers may even take guests out on a night drive to view the nocturnally active wildlife.
Umkumbe is in a prime position and there is almost always game to be seen from the deck and the main guest areas. Elephants, buffalo, antelope, baboons are regular visitors, while a pair of breeding fish eagles nests just in front of the lodge.
Superior Suite: Lion Suite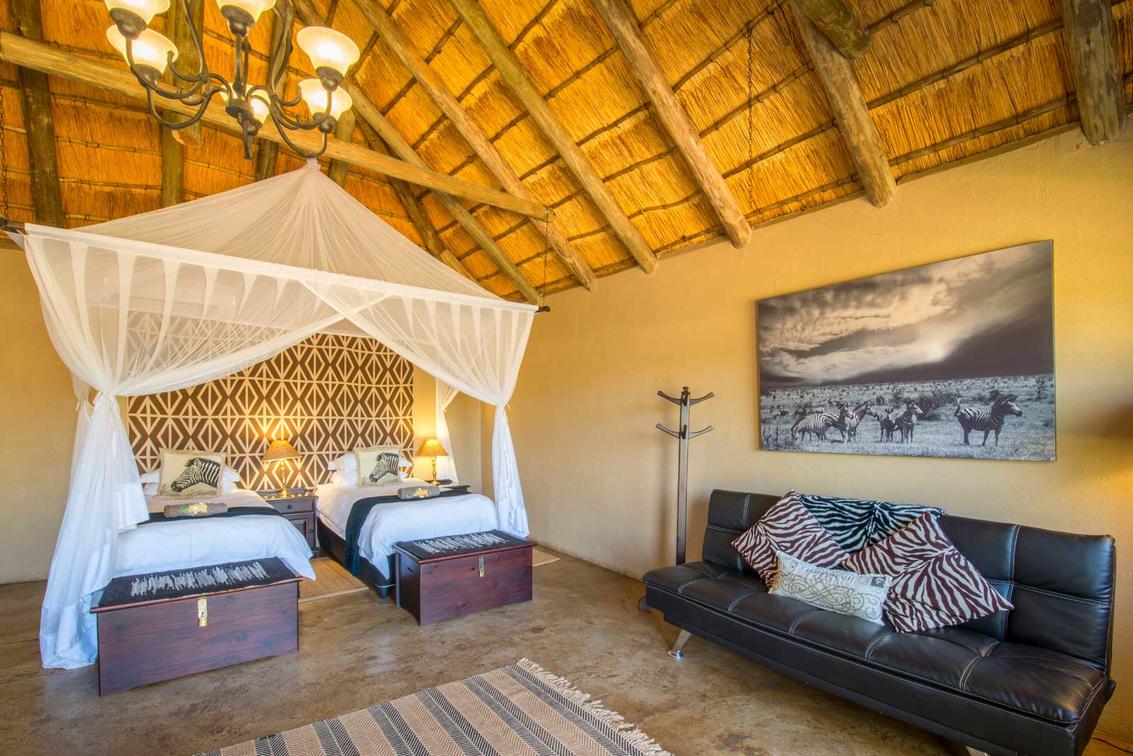 Lion Suite can sleep 2 guests and is equipped with one king size bed or 2 single beds with 2 sleeper couches, an en suite bathroom with a bath and outdoor shower. This superior suite is overlooking the Sand River.
Basis
Full Board Plus – Dinner, Bed, Breakfast, Lunch and Activities
Day 6, 7, 8: Umkumbe Safari Lodge, Sabi Sand Private Game Reserve
Activities
Morning and Evening Game Drives
Game Walks
Outdoor Traditional Safari Style Dining
Morning and Evening Game Drives
At Umkumbe we offer two game drives per day, one in the morning that departs at approximately 06h00 and the afternoon drive at 16h00. On the morning drive there is a stop for coffee and on the afternoon drive you will stop for sundowners. After sundowners guests will get to experience a night drive on the journey back to the lodge.
The night drives allow guests the opportunity to see the nocturnal animals not encountered during the day. Your tracker uses a powerful spotlight during the night drives to search for nocturnal animals, which include hyenas, aardvarks, bush babies, genet cats and mongoose.
Game Walks
After a full breakfast guests have the option of going on morning bush walk. Walks are led by qualified and trained field guides. You will have the opportunity to track wildlife, learn about the surrounding vegetation and how to read the African bush. If you're lucky you will enjoy a few close encounters with large predators.
Game walks are upon request and do not form part of the standard, set daily itinerary.
Outdoor Traditional Safari Style Dining
Guests dine together in the open-air boma when they stay at Umkumbe. The tables are centred around a campfire, which is often the hub of activity after dinner. Rangers will often come and sit with guests to answer questions about the day's safari.
Dinner is served at a set time after the evening game drive, and there is always a variety of deliciously prepared dishes available buffet-style.
Basis
Full Board Plus – Dinner, Bed, Breakfast, Lunch and Activities
Day 9: End of Itinerary
Day Itinerary
Take in the sights, sounds and smells of the African bush one more time this morning prior your flight back to Johannesburg and onto the USA as your life changing and most regenerating experience sadly comes to an end.
Basis
Bed and Breakfast
End of Service;
Transport
Flight Information
| | | | | | | | | |
| --- | --- | --- | --- | --- | --- | --- | --- | --- |
| Date | Flight | Airline | Departure Airport | Time | Arrival Airport | Time | Class | Ref |
| | Scheduled | | OR Tambo International Airport [JNB] | | Greater Kruger Park Airstrip | | | |
| | Scheduled | | Greater Kruger Park Airstrip | | OR Tambo International Airport [JNB] | | | |